Welcome and Thank you so much for Visiting our Website
About this Asperger Syndrome site
Asperger-Syndrome.me.uk was first created back in 2007 and the only idea for the website is to help anyone who needs some help or support with a child or adult with Asperger Syndrome.
The only reason We wrote this site is because when we found out our Son had Asperger Syndrome and my wife and I found it quite hard to find out information regarding the condition and information regarding help and support. So we decided to search the net, read so many books on aspergers as well take part in any group workshops we could find plus added the little information we received from the doctors.
From our findings we have put all the information we have received together on this site. Before you go any further we must state we are NOT Doctor's or expert's on Asperger Syndrome we are just parents with a Son with Asperger Syndrome.
On this site you will find the basic of what Asperger Syndrome is, what you can do to help and even a bit of fun with famous people thought to have or do have Asperger Syndrome
We would welcome any feedback or suggestion on how to improve my site or add any information we may have missed so please feel free to mail me using the contact option at the top of this page.
Asperger-Syndrome.me.uk is always looking for ways to increase the amount of people we can help so if you run a website and you would be willing to either add a link to my site or even add a small banner on your site to help please mail me via the contact me option at the top of this page.
Pages
Sponsored Links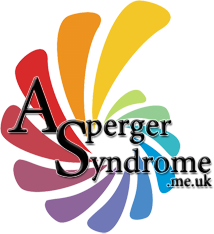 We would welcome any feedback or suggestion on how to improve my site or add any information we may have missed so please feel free to mail me we are also looking for ways to increase the amount of people we can help so if you run a website and you would be willing to either add a link to my site or even add a small banner on your site to help please mail me via the contact me option at the top of this page